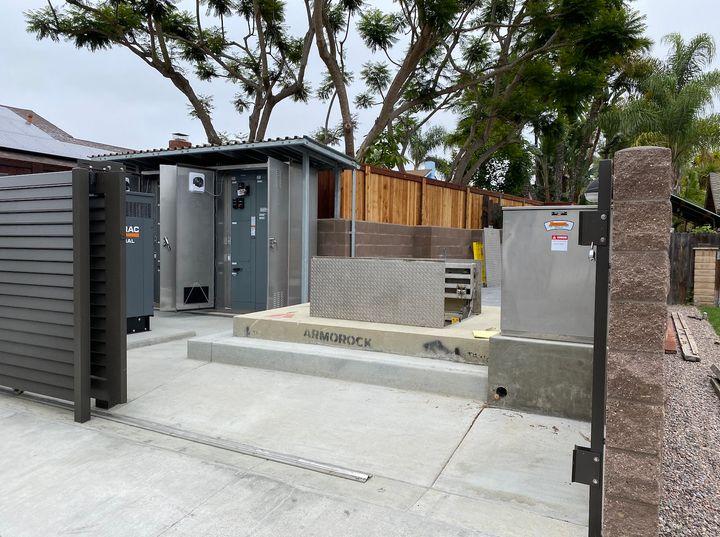 Learn About District Infrastructure Improvement Projects Below ⬇️
Completion of Encinitas Estates pump station project
The District recently completed the replacement of the Encinitas Estates pump station which is located in the Encinitas Estates residential area at the corner of Oakbranch Drive and Avenida De Las Adelsas. New electric submersible pumps replaced the 48 year old pump station in April 2022. New piping, valves, electrical controls and a new replacement generator were included with the new pump station. The planned infrastructure replacement is part of the District's long-term asset replacement plan, or "Asset Management Plan" to maintain collection system reliability, integrity, and resiliency.
Village Park No. 7 Pump Station upgrade project
The next major project in the District Asset Management Plan is the replacement of Village Park No. 7 Pump Station, which is 49 years old. The pump station is located in the Village Park residential area of Encinitas, adjacent to the corner of Mountain Vista Drive and Whitewood Place. After exploring all replacement options, the Board approved replacing the current station with an innovative, pre-fabricated station - saving an estimated $1.31 million, which is 62% less than expected!
Fiscal year 2023 gravity sewer repairs project
This project will repair 34 sites throughout our service area and cover over 1.5 miles of existing sewer pipeline. The pipes will be rehabilitated by relining the inside of the pipe without digging trenches, a method called Cured-In-Place Pipe lining. These repairs reinforce a sound sewer system by continuing to allow sewage to flow unrestricted in the pipes. Minor traffic impacts may occur at each site during construction which will occur from winter 2022 through spring 2023.