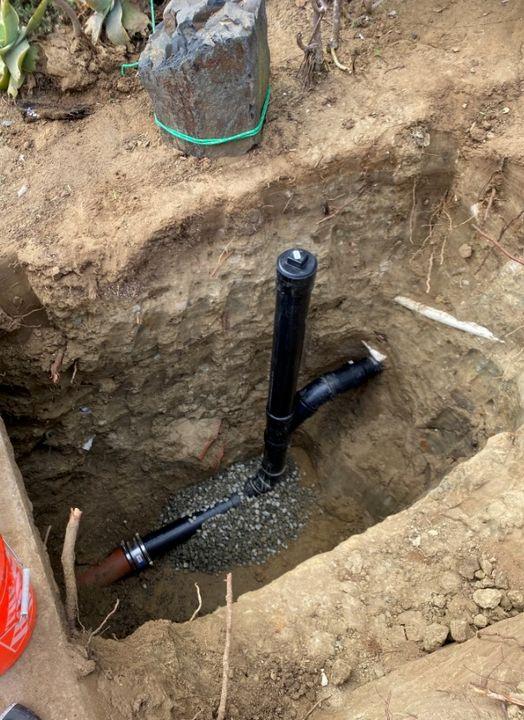 In October 2020, Grant Hoxworth was in escrow on a home in the District's service area. Due to the current owner's plumbing history of the property, Grant decided to have a camera inspection performed on the private sewer lateral and contacted a local plumbing company. During the camera inspection, the plumbing company discovered a root mass in the sewer lateral that had the potential to cause a sewer backup.
Fortunately, this issue was discovered before a sewer backup occurred and while Mr. Hoxworth was still in escrow. The plumbing company advised Mr. Hoxworth of the District's Lateral Grant Program and he applied immediately. The financial assistance provided by the Lateral Grant Program helped Mr. Hoxworth with the necessary repairs. The District awarded a sewer lateral grant of $2,895 to help offset some of the repair costs. Mr. Hoxworth stated "the overall process was pretty easy, including the communication with the District." Reducing sewer laterals spills protects the environment as well as human and animal life.
Since July 2020, we are pleased to report that the District has funded approximately $45,000 in lateral grants to 20 homeowners, like Mr. Hoxworth, to help with their sewer lateral repairs. The District will pay half the cost of lateral repairs up to $3,000 on pre-approved projects.
To learn more about the District's Lateral Grant Program, please visit the District website at http://bit.ly/latgrant or call us at (760) 753-0155. The lateral grant must be pre-approved, so please contact us before you begin repair work on your sewer lateral. We are happy to help!